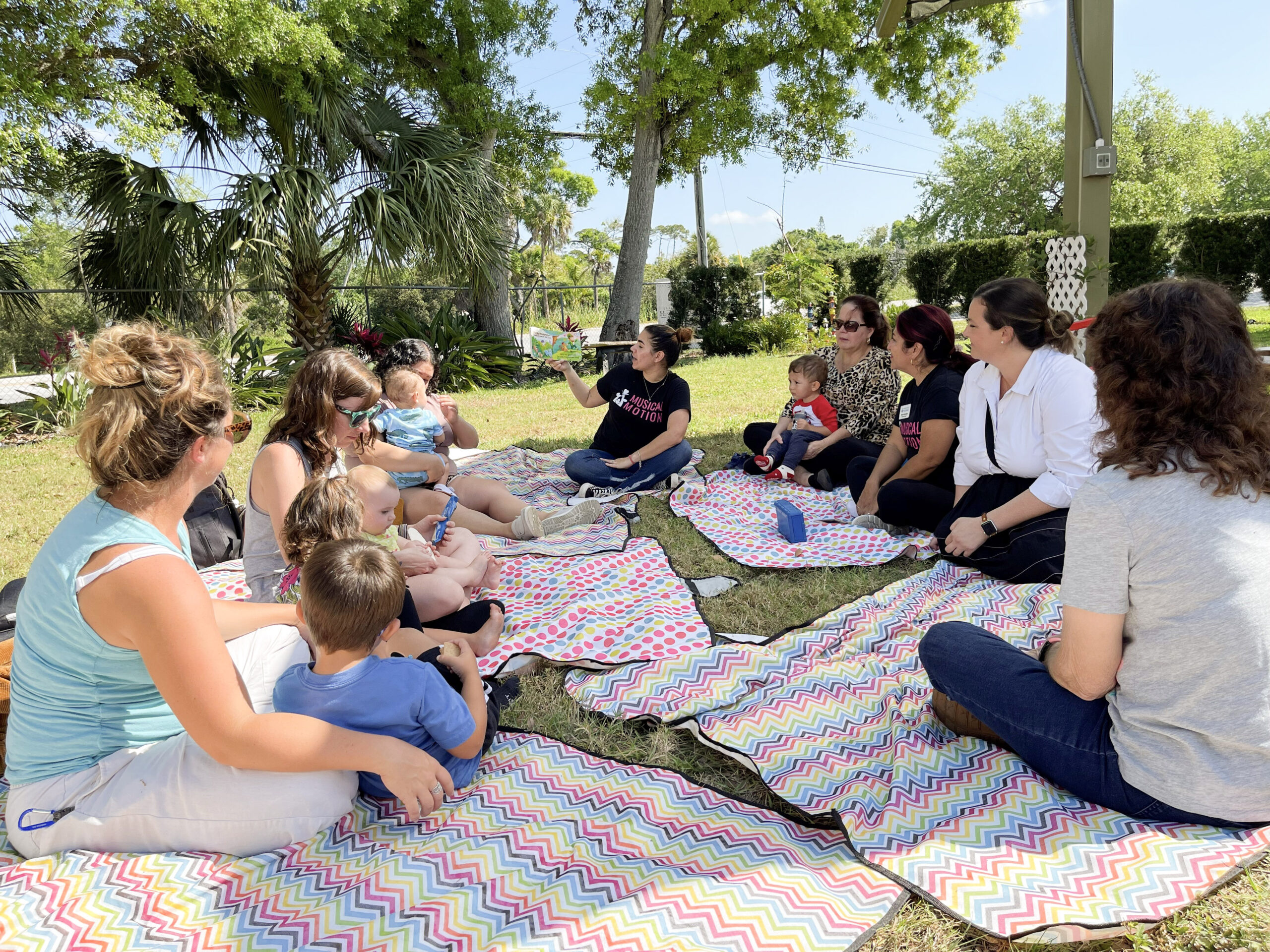 Monday mornings, in the Serenity Garden at the Glasser-Schoenbaum Human Service Center, are anything but serene. The sound of young children singing, dancing, and laughing along to songs like "Let's Go Swimming" fill the corridors of the Human Resource campus. This is the sound of Musical Motion, a joyous, hour-long class, where children ages birth – five, and their caregivers explore through music, art, reading, and play. Before the class, parents join in a topical discussion about parenting and are provided resources, tools, and materials that reinforce positive parenting techniques within their homes. Musical Motion nurtures development, fosters early literacy, strengthens parenting skills, and builds community.
Building community is key when raising small children, and now, more than ever, the adage, "It takes a village to raise a child" rings true. Many families participating in Musical Motion have limited local support, and the class has become a way to connect, learn, and bond.
This sense of connection and collaboration reverberates throughout the partnerships that have made this program possible.
The Community Foundation of Sarasota provides a partnership that goes beyond their investment.
Parenting Matters is proud to be an early partner with the Community Foundation of Sarasota in their Two-Generation (2Gen) Approach, a format where a program works intentionally and simultaneously together, with the whole family, to build well-being. Musical Motion embodies this practice and integrates services and support to move the whole family forward, benefiting both the child and the adult(s) in their lives.
The families who participate in Musical Motion are fortunate to have The Community Foundation of Sarasota County, Inc. and Glasser-Schoenbaum Human Services Center in our village partnering together to provide this impactful program.
Additionally, the Community Foundation of Sarasota County has enriched our partnership by facilitating open dialogue and providing research and insight into best practices that further our reach to serve more families in the community. Through this active collaboration, two Musical Motion class locations have been fully funded through the Allen Wirtz Nobbe and Jo Bowen Nobbe Fund and the 2Gen Approach Fund of the Community Foundation of Sarasota County. The continuity and consistency that this funding provides reinforces positive gains that little brains require for healthy development and strengthens the connection parents have with their children, building a foundation of success
Kirsten Russell, Vice President, Community Impact, at the Community Foundation shares, "Parenting Matters has been a longstanding partner in our 2Gen work. They have continuously demonstrated the potential and impact of building relationships between parents and their children together. Their innovative approaches to supporting our youngest learners, complemented by strengthening skills and developing the financial acumen of parents, bring sustainable and positive outcomes to the families they touch. Musical Motion is just one way that parents can learn that there is nothing wasted by playing with your child – it is the earliest way to build literacy skills…and to build a lifelong relationship."
Keep The Music Playing
Our Musical Motion Fundraising Campaign is happening now through April 11, 2023. Please consider supporting Musical Motion this week.
With 11 Musical Motion class locations throughout Manatee and Sarasota Counties, your donation will help ensure that high-quality early learning programs are available for children who need them most.
Click here to learn how your support can benefit Musical Motion.
Click here for the full schedule of Musical Motion class locations.